Birthdays are special — after all they only come ONCE A YEAR!
Great Birthday Celebrations are remembered for a lifetime. At Swings-N-Things, we understand the importance of this important day – we've been creating great memories for families for over years! Visit us and find out why we've been recognized as the best birthday party place in Cleveland!
We celebrate birthday parties 12 months a year! So whether your birthday is in June or January or anywhere in between you can discover why…
Birthdays Are Best at Swings-N-Things!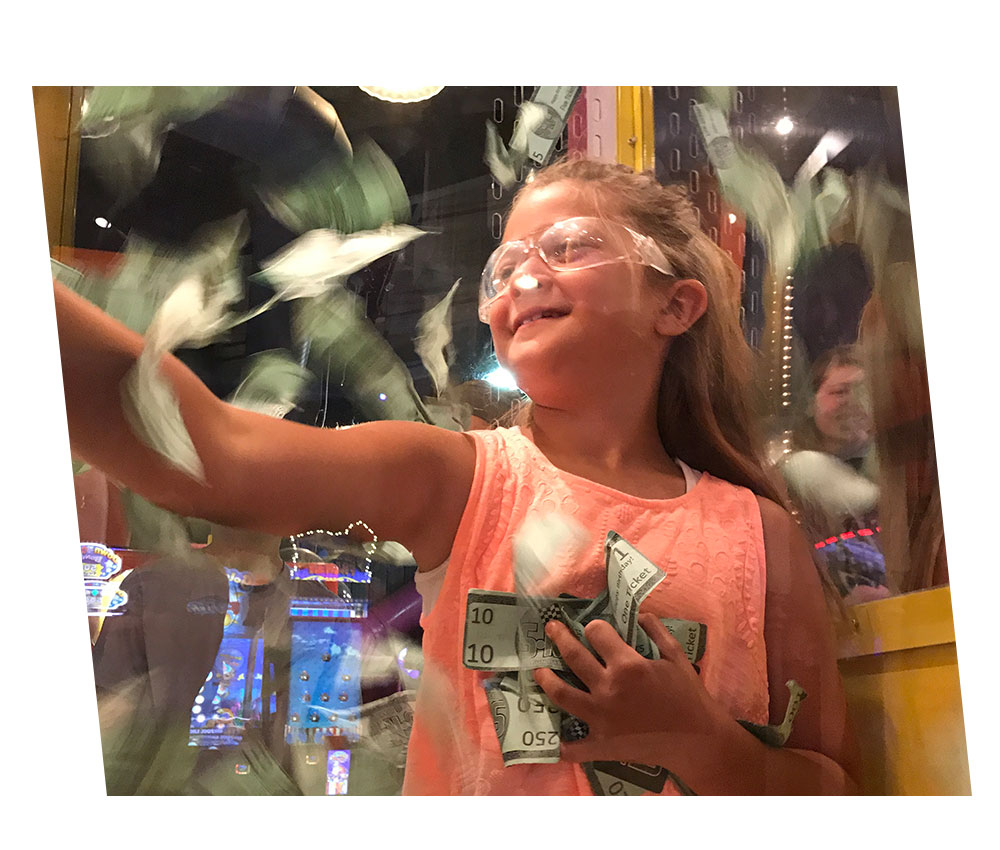 A minimum of 8 Birthday Packages must be purchased.
A non-refundable deposit is required (no exceptions) at time reservation is made. Your party is not reserved until we have a deposit. Deposits may be made with your Visa, Mastercard, Discover or Cash (No Personal Checks).
The following is the deposit requirements: A $20 deposit is required to book a birthday party. MasterCard, VISA and Discover are accepted.
Reservations are most easily made on Monday – Friday from 8:30 am – 5:00pm. However, we also have Birthday Coordinators available weeknights until approximately 9:30 pm and on weekends and holidays from 9:00 am – 8:00 pm. Occasionally all of our coordinators may be on other calls and you may be transferred to our Birthday Voicemail. In that event, we will make every effort to return your call ASAP.
Food Packages may NOT exceed the number of Birthday Blast Packages purchased. (i.e. If you have 8 Birthday Blast Packages, you may not have more than 8 guests purchasing only the Food Package)
Parties that reserve 14 or more "Packages" (Combination of Birthday Blast & Food Packages) will be billed for a minimum of 75% of those seats reserved. Final seating counts must be made a minimum of 7 days prior to the scheduled party.
Please Note: Your reserved area will be available to you at the scheduled start time, not before.
Your reserved time in the Party Area lasts for 1 hour from the scheduled party start time. Please be prompt since we normally have parties scheduled all day and because of that we cannot extend your time in the Party Area.
No Passes or Tokens will be distributed to your guests until the completion of your time in the Party Area. This policy is in place so that the focus of the party stays on the Birthday Person. Once kids (and adults) are given the opportunity to take part in our attractions, it is EXTREMELY DIFFICULT to get them to the Party Area AND to focus their attention on the person whose day it is to celebrate.
In order to guarantee a reserved seat in the Party Area, each guest must have a Birthday Blast Package or a Food Package. Once we have your final total of reserved Birthday Blasts and Guests who you have ordered a Food Package, we add two additional "Complimentary" reserved seats. These extra seats are for family members (or friends) who plan to assist in some manner of the party and do not plan on eating or drinking (these NO CHARGE GUESTS will not receive any part of the Birthday Blast or Food Package). Due to limited seating, we generally need to know in advance (reservation) the exact number of guests that you are expecting. If additional guests arrive we will do our best to accommodate them, but seating cannot be guaranteed without a reservation.
Birthday Party Extras and Food Additions may only be purchased by the parent/guardian hosting the party before final payment is made.
On the day of your party, please register at the "Party Check-In" Area at the end of the Prize Counter located in the Game Room. When registering, you'll meet your Host/Hostess. They will welcome you, confirm the number of guests that you are expecting and escort you to your reserved Party Area.
Once the party begins, sit back, relax and enjoy the day. Everything will be served for you and your group. We suggest that if opening presents will be part of the celebration, the best time to open them is while the cake is being served. This is also a great time for pictures! Once all the festivities have been concluded in the party area, the passes and tokens included in your package will be distributed. Don't worry about cleanup, we'll take care of everything including assisting you take gifts to your car.
With the exception of a Birthday Cake, NO additional food or beverage may be brought into Swings-N-Things. If you decide to bring your own cake, you can use ours in addition or we will be happy to box it for you to take home.
Items such as silly string, confetti, piñatas, and balloons may not be brought into Swings-N-Things.
Prices and Packages are subject to change without notice.
Check Out our Birthday Party Options